TRANSFORMING LONDON'S SKYLINE
Principal Tower is a soaring testimony to London's continuing influence and vision.The first residential tower in London fully-designed, both inside and out, by world renowned Foster + Partners, combines spectacular architecture and breath-taking views with intelligent, elegant design of the highest specification.
Each of the luxurious apartments in this 50-storey tower also benefits from the residents' gym and spa, screening room, lap pool, 24-hour concierge and the newly built adjacent tree-lined piazza of shops, restaurants and bars.
With a City address, but within walking distance of trend-setting Shoreditch, the development offers fast, efficient transport links, as well as a wealth of cultural and culinary experiences on the doorstep.
All interiors are designed by Foster + Partners' own in-house interiors practice in collaboration with LIV Interiors to seamlessly blend with the architecture. A cool palette, carefully considered detailing and the very best materials combine to create serenely elegant spaces. The spectacular views are an integral part of the apartments – epic vistas of an epic skyline.
ESTIMATED COMPLETION DATE: July 2019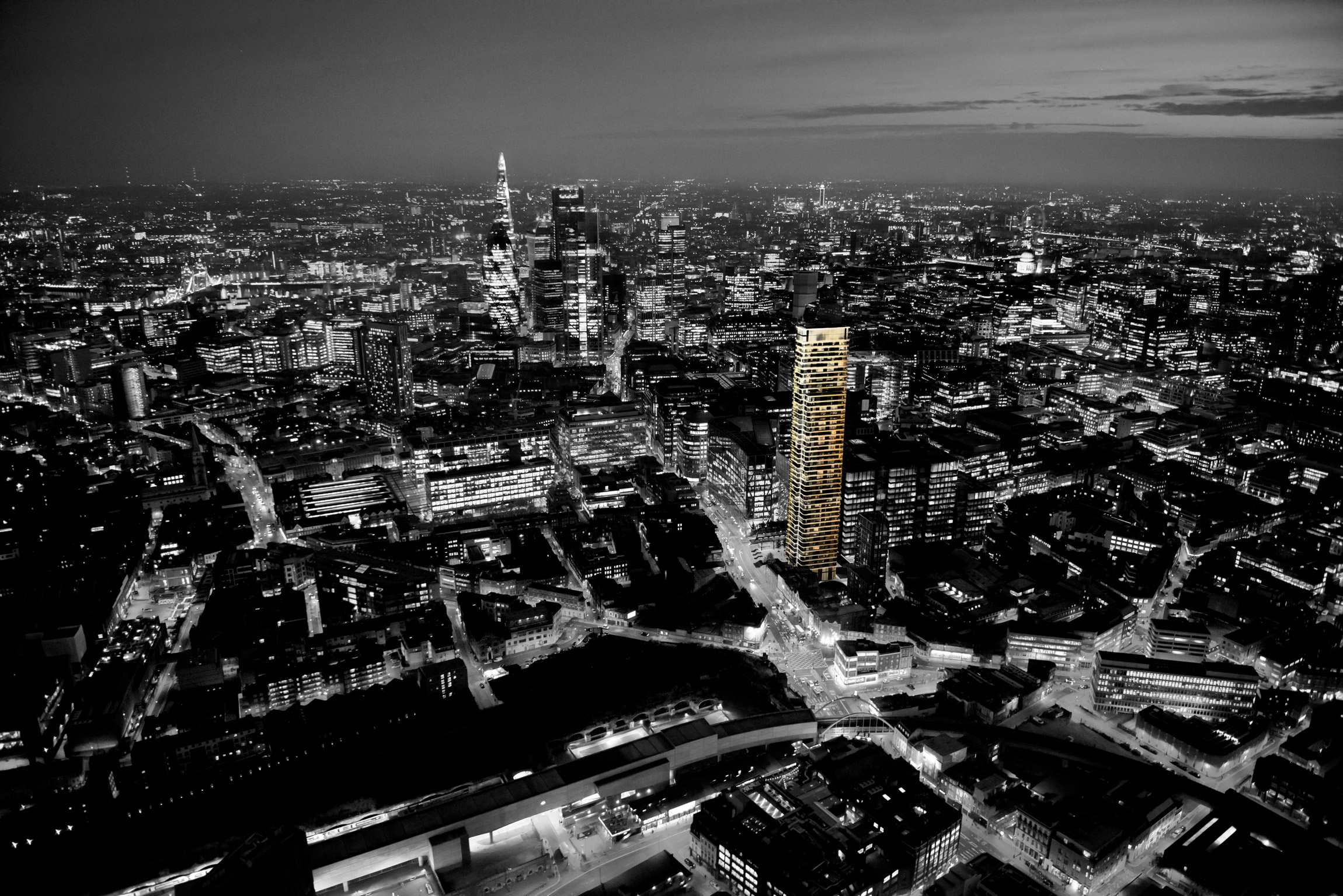 Aerial view of Principal Tower
|
Computer Generated Image
PRINCIPAL TOWER - LIVING SPACE
PRINCIPAL TOWER - WEBCAM
PRINCIPAL TOWER - WEBCAM
THE TOWER IS SITED UPON ONE OF THE RARE PLOTS OF LAND THAT ISN'T GOVERNED BY HEIGHT RESTRICTIONS, WE DESIGNED IT TO GIVE A MAXIMUM NUMBER OF CORNER VIEWS, AND ITS SHAPE WAS THE RESULT.
Grant Brooker
|
Design Director, Foster + Partners
Contact
Principal Tower Marketing Pavilion
+44( 0)20 3883 3333
Architect
Foster + Partners
Riverside
22 Hester Road
London
SW11 4AN