Central London Development – Raising the Roof – September 2015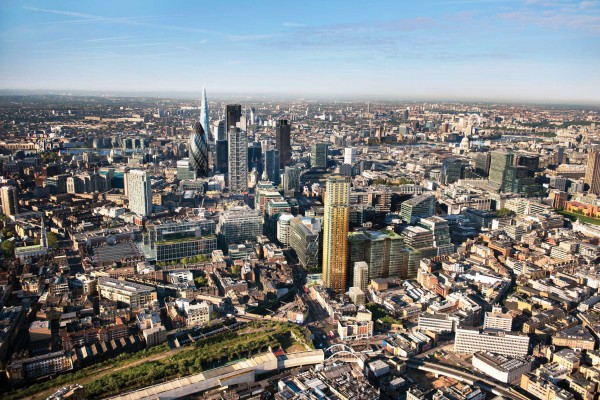 What insight and lessons can we learn from someone who is developing a residential tower in London? We talked with Chris Murray, Managing Director at W1 Developments Ltd who, in conjunction with Brookfield and Concord Pacific, are developing the Foster + Partners designed Principal Tower in the City.
What do you see as the greatest risks when developing a residential tower in London?
Unquestionably the highest risk today is around construction costs. These have escalated by close to 20% in the last year and could possibly increase further over the next 12 to 18 months. The high building costs when developing a tower mean a greater exposure to construction cost inflation which, if not factored in, can kill a deal.
What about buyer risk?
We don't see there being any end-user risk at all, assuming the developer is of reputable standing and will deliver the product at the end of the day. Tower schemes may consist of 200- 400 units which is not huge within a London context, so volume is rarely an issue. In fact, we see the market risk as diminished in a well-located, quality tower. The better views, iconic design and prime location create greater selling power. Most Britons are not used to vertical living but they will learn to love it. With buyers from both the UK and overseas there will always be plenty of demand for the right product in the right location.
What are the additional cost implications for towers?
A quality, iconic and well-located tower in London will cost around £500 psf to build assuming an excellent offering is being developed. You need to ensure the tower is of top quality construction and design, that it stands out and is iconic and that it possesses all the facilities expected – pool, spa, gym, concierge etc. A basic London residential building of circa 10 storeys might cost in the region of £300 to £350 psf, so the additional costs of an iconic tower are significantly higher, but you expect to get this return back in terms of sales prices.
What about pre-sales and financing?
You need pre-sales to secure construction funding. Typically around 40% of room count or 30-35% of GDV (Gross Development Value). The greater proportion you sell, the more competitive your financing costs become. We take the view that you only pre-sell what you need to secure the senior loan. The greatest returns on your investment will come by selling closer to completion. At Principal Tower, JLL have helped us sell 45% of units. This is enough for now. We expect prices to rise further by the time we finish construction in three years. Purchasers will also pay more when they can see and feel the development, how it fits in with the local area, what they are buying into and can imagine living there. This is when margins are made.
Do you think Britain has the expertise to develop towers? We certainly have limited experience.
The skillset is there on all but the build side, but few people have the relevant tower experience. Internationally renowned architects have been in London for years – this is a global marketplace, and companies like JLL have global reach. But in the UK there are only a handful of contractors who you would commission to do the job. In New York, Shanghai, Hong Kong or Kuala Lumpur you would have your pick from perhaps 20 or 30. This makes the tendering process tighter, and probably means higher cost. The other issue is that these firms currently have full order books, especially given the number of developments and towers in the pipeline. So securing a contractor and getting your scheme built when you want – at the price you want - is an issue. On top of this, the contractors cannot find the construction labour workers. There are simply not enough around. So this impacts on timing and cost as well.
Design-wise what must a tower have?
The absolute must is that it is iconic. It must be unique, it must stand out and it must be able to stand the test of time. So design is absolutely key. As well as design there is an amenities race. You have to provide a gym, spa, cinema, concierge, a resident's bar/lounge – anything to add to the service offer. They have to be top drawer and you should push the boundaries as far as possible to set your product offering higher than your competition. The location of these amenities within the tower is critical – nobody likes a gym in a basement with no natural light. There is a personal safety element to consider as well – your customers need to feel safe and happy in these resident's areas.
Concrete monstrosities from the 60s are what most Britons would picture as a UK tower. How will the current crop of towers look in 20-30 years' time?
Design is of paramount importance and we are not looking 20-30 years ahead. We are building for the long-term, 100 or more years into the future. After all you are selling homes – for today and for future generations. Designing the right building, adopting the right cladding and using the right materials are all crucial. The building needs not only to be inhabitable in 100 years' time, it still needs to be iconic and it still needs to exude class, especially in prime locations. It also needs to be designed and built with sustainability in mind. It must be built to last, and that means not scrimping on design, materials or technology.
If you had one message you have learned from the Principal Tower experience what would it be?
To respect London as a unique world class city. London is different. It has a tremendous rich history of commerce, design and culture. You must respect London, you have a responsibility to Londoners, you have an opportunity to make your mark but you have an unequivocal responsibility to do it right. Anything less - not on my watch. If you are thinking of anything less than pure excellence then think again. Respect London. We have a collective responsibility.