NAC Orchestra UK Tour highlights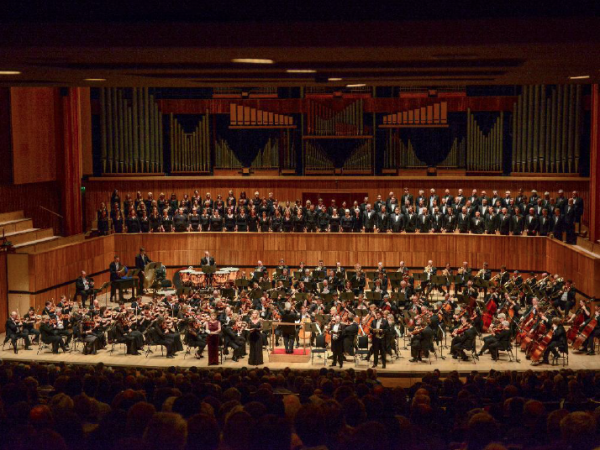 It has been a little over two weeks since the National Arts Centre Orchestra returned to Ottawa after concluding their tremendously successful 10-day Remembrance, Performance and Education Tour of the United Kingdom.
The theme of the UK Tour – music as a force for healing and reconciliation – was a poignant addition in the commemoration of the centenary of the First World War. It truly was a "Tour to Remember".
The Tour received excellent media coverage, both nationally and internationally, in publications like the Globe & Mail, Macleans, Huffington Post Canada, The Ottawa Citizen, The Scotsman, The New York Times International Weekly, The Times, as well as on CBC Radio-Canada, the BBC, and many more. Media highlights are available as clippings via the link at the bottom of this page.
During the 10 days, the Orchestra was able to perform five major concerts, lead more than 50 education and outreach events across the United Kingdom, and conduct one major international broadband event.
Highlights of the NAC Orchestra UK Tour included:
- 10 extraordinary days where 61 musicians of the NAC Orchestra and a small NAC team travelled to Edinburgh, Nottingham, London, Salisbury and Bristol between October 22nd and October 31st
- 1 Royal Patron, His Royal Highness The Prince of Wales, who graciously attended the concert and reception in London
- 5 evening concerts performed to very full houses and ending with standing ovations, a rarity with UK audiences
- 7 private functions for VIPs and partners hosted by RBC, the Canadian High Commission, The Honourable Hilary M. Weston and W. Galen Weston, Mark and Diana Carney, Margaret Fountain, James Kinnear, and David Graham
- 50 educational outreach events bringing together NAC Orchestra musicians with 5,000 students, young artists and families in conservatories, concert halls, and public cultural locations
- 1 international broadband event linking the U.K. and Canada - ConneXXions 2014 – plus two podcasts featuring author Margaret MacMillan
- Infinite memories and adventures experienced by NAC Orchestra musicians, staff, partners, Benefactors, students, concert goers and public!
W1 Developments is proud to have sponsored the event tour.